The design guides of CMF continuous UF membrane
[The design parameters of CMF)/CUF ]
Note:At present,The water resource of CMF/CUF membrane are surface water and wastewater,the successful case is very little,in addition to the underground deep well water, but the Kaijie CMF/CUF membrane of RO pretreatment for all wastewater are very successful,the operation life is over 3 years, The reason is that the application of membrane and the function of membrane silks,The users put the CMF/CUF membrane as the universal membrane, don't good control of pretreatment and water indicators,design flux is too big, dosing position of flocculant is not right, it is not reasonable that the frequency of on-line cleaning, the recoil pressure and agentia, don't have elastic expansion function of X50/80 type membrane silks. Therefore, the CUF/CMF membrane must adopt the reasonable methods to resist pollution, membrane life of 30% lie in the membrane quality, the other 70% is whether the correct design and use (but membrane silks must have the expansion function).
Model

UF6040W

UF8040W

ESUF5050W

ESUF9040W

ESUF9050W




Performance

Initial flow(25℃/m3/h)

3.0~3.5

4.0~4.8

2.4~3.0

5.6~6.7

6.5~8.0




Influent Water Turbidity

<20NTU

<50NTU




SDI & Turbidity

<1.5 & <0.1NTU

<1.5 & <0.1NTU




Specification

Mode

External pressure Type

External pressure Type/Internal diversion system




Membrane silk type

PP/ Anti-pollution

X50/80 highly elastic anti-pollution modified PP




MWCO(Dalton)

CMF:8~10 CUF:5~8

CMF:8~10 CUF:5~8 (ten thousand)




Membrane area

43m2

60m2

38m2

73m2

90m2




water resource type

Tap water, deep well water/Anti-pollution

Tap water, surface water, waste water, waste acid alkali liquor, etc./Highly elastic anti-pollution




Inside diameter

Wall thickness

Inside diameter:300~350μm
Wall thickness:45~60μm

Inside diameter:370~400μm,

Wall thickness:50~60μm




Conditions

Design flux of CUF/CMF

Tap water, deep well

1.3~1.6m3/h

1.7~2.1m3/h

0.9~1.3m3/h

2.2~2.7m3/h

2.6~3.2m3/h




Surface water

1.0~1.3m3/h

1.4~1.8m3/h

0.8~1.2m3/h

1.8~2.4m3/h

2.1~2.9m3/h




Waste water

0.8~1.0m3/h

1.1~1.4m3/h

0.7~0.8m3/h

1.55~1.9m3/h

1.9~2.3m3/h




Max Pressure

0.30Mpa

0.35Mpa

0.35Mpa




Max differential pressure

0.30Mpa

0.35Mpa

0.35Mpa




Residual chlorine concentration

100ppm

100ppm

100ppm




Lifetime

0.5~2 years(According to water quality)

Over 3 years

Over 3 years




Operation mode

Directly recycling

Directly recycling or circulating reflux(Diversion system)




PH

1~14

0~14

0~14




Circulating water :producing water

Underground water 0.8:1 Surface water 1.2:1 Waste water,1.2:1;

5040/9050 :Underground water0.7:1 Surface water 1:1 Waste water 1.:1




Online cleaning method

Water backwash with air scrubbing

Water backwashing with air scrubbing (Anti-pollution diversion system)




Process conditions

Backwash pressure

0~0.25Mpa(Max 0.30Mpa)

0~0.25Mpa(Max 0.30Mpa)

0~0.35Mpa




Backwash flow:

Design flow

Deep well water1.5 times、Surface water 1.8times、Waste water 2.0times, Waste acid alkali, waste solvents 2.5times




Internal diversion system

No

Yes(Elastic expansion function)

Chemical agent

HCL、NaOH、NaClO/NaOH

HCL、NaOH、NaClO/NaOH
Note:
1.The above table,if without exact experiments and agreement of our company ,water flux must be designed according to the lower limit value.
2.CMF/CUF membrane are strict requirements for pretreatment and water indicators,Our company has a lot of experience with backwash pressure,water flow,frequency,reflux ratio,the way and position of using flocculant etc.If users need, please ask for CMF/CMF instructions to our company.
3.Our company recommends that users try to use KJ-ESUF9050 membrane element,not only price have advantage from the flux, but also the pipe valves, water pump, facilities can be greatly reduced. The internal diversion system can make the membrane cleaning cycle and service life can be greatly prolonged.
Detailed introduction of membrane 9050 type please click into
"The performance comparison and anti-pollution principle of KJ-UF and X50/80 elastic anti-pollution membrane,the patent of elastic membrane element" please click into
Manual Download of the CMF /CUF membrane of RO pretreatment please click into
[The structure of CMF membrane element]
Symbol description:
①The "wastewater inlet" can be the same as "gas scrubbing air inlet","Chemical cleaning fluid inlet "and "Auxiliary outfall".
② The "Water outlet" can be the same as "backwash water inlet"
③ The"Wastewater reflux outlet" can be the same as the "outfall" and "chemical cleaning liquid reflux outlet"
④ "Backwash drainage outlet or be blocked "only as the"Backwash drainage outlet"and"be blocked"
[The directly reflow process of CMF/CUF membrane system]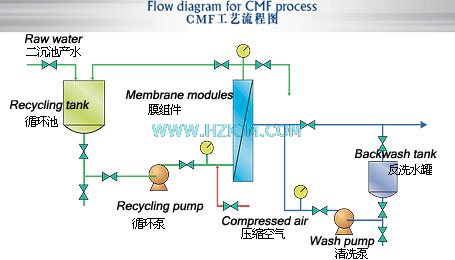 Note:If there is a middle water tank between UF membrane system and pretreatment, generally choose the "directly reflow operation process",otherwise select the operation process of circulating pump.
"The detailed introduction of UF membrane"please click into